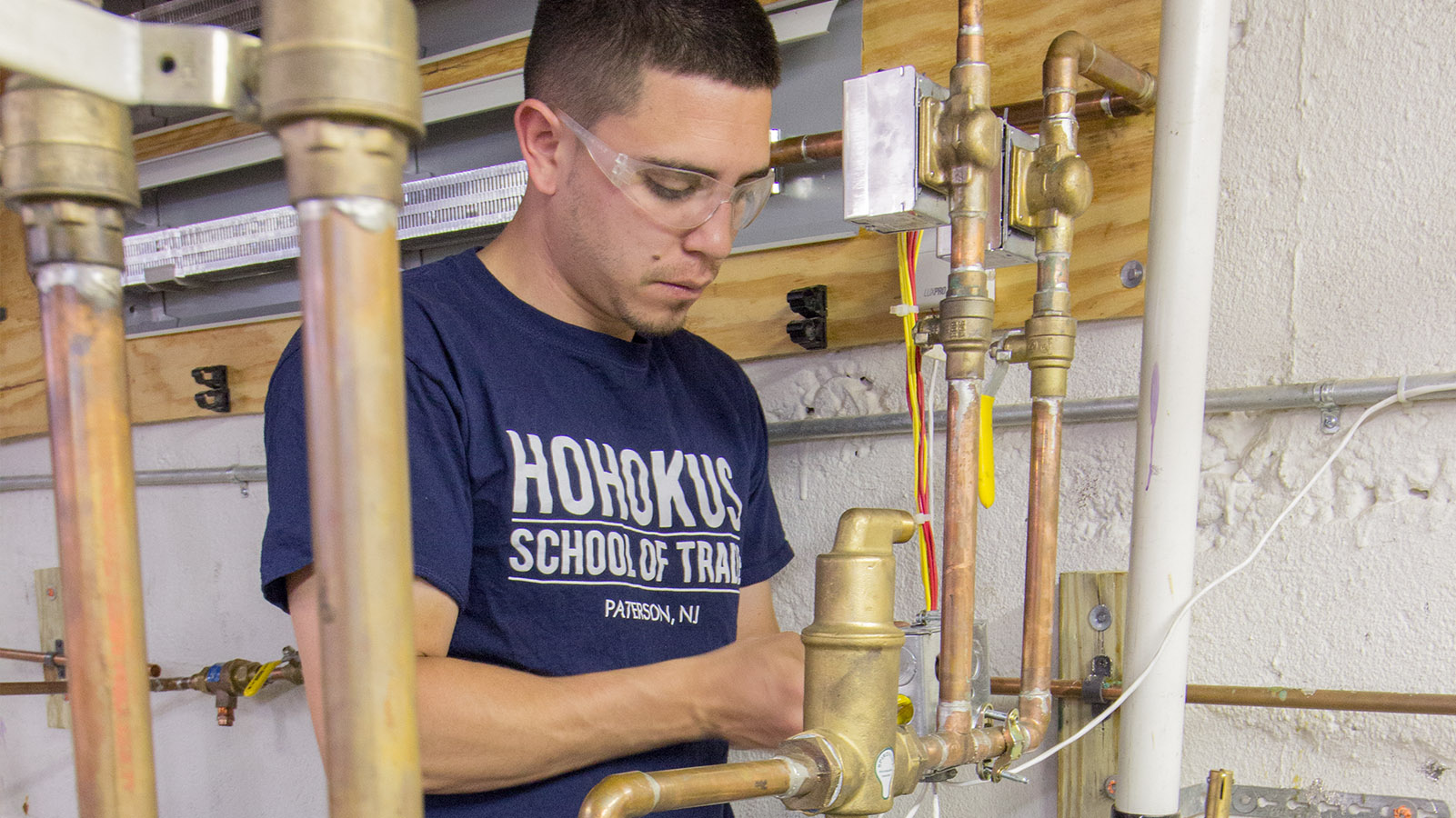 The field of plumbing, heating, and pipefitting consists of the installation and repair of water supply piping, waste and vent piping, and fuel-fired heating systems in residential and light commercial buildings. Workers in this field comprise one of the largest and highest paid construction occupations in the nation, and job opportunities for graduates are expected to be excellent. The Plumber Apprenticeship program at HoHoKus School of Trades and Technical Sciences is designed to provide students with a diverse skill-set to meet the enormous demand in the field and ensure they have the best job opportunities. This program is equivalent to one year on-the-job apprenticeship. Offered in: HoHoKus School of Trade and Technical Sciences | While we strive to provide students with the best tools to prepare for their careers, we cannot and do not guarantee employment. Bureau of Labor Statistics, U.S. Department of Labor, Occupational Employment Statistics, [05/01/11] [www.bls.gov/oes/]. Credentialing organization may change requirements without notice.
Frequently asked questions about the Plumbing Apprenticeship program.
What is a plumber?
Personal benefits. As a plumber, you'll be working your body and your mind all the time. Analyzing problems, developing solutions, and handling day-to-day business transactions will keep your mind sharp, and the physical requirements of the job can keep your body active and healthy. There is job stability along with advancement opportunities in this field. Job variety is a plus too.
What do students learn in the Plumber Apprenticeship program?
Understand and apply building codes. Learn how to troubleshoot and fix problems. Pipe cutting and pipe fitting. Learn to work with different types of pipes, from PVC to metal, how to fit them and how to bend the metal pipes using specialized tools.
What type of places or positions do plumbing students work in after graduation?
As just about every business or organization requires someone to install, repair and maintain their plumbing system, plumbers are able to find career opportunities in a wide range of industries.
What certifications and affiliations are offered through the Plumber Apprenticeship program?
State License required for a plumber. Able to join NJPHCC in order to gain access to networking opportunities.
What kind of person would make a good plumber?
An individual should be mechanically inclined and have coordination skills. Communication skills and problem solving skills are also needed. An individual in this field needs to be dedicated.