Help improve lives with a career as an occupational therapy assistant
Study close to home at our campus in Ramsey
Graduates are able to sit for the national OTA certification exam administered by NBCOT, and upon successful completion become certified occupational therapy assistants (COTAs)
Whether due to an injury, illness or disability, it can become difficult for someone to be independent in their occupation and day-to-day activities. This is where occupational therapy comes in. Occupational therapy assistants assist patients in overcoming these obstacles, helping them develop, recover, and improve the skills needed for daily living and working so they can be successful and happy in their career and most important life aspirations. Our AAS in Occupational Therapy Assistant program prepares students to enter the healthcare field in the capacity of a certified occupational therapist assistant (COTA). Graduates of the program go on to start rewarding careers in occupational therapist offices, nursing care facilities, hospitals, elementary and secondary schools, and home health care services. Fieldwork experiences may take place during daytime hours on weekdays and weekends. Level II Fieldwork (OTA 211 and OTA 212) must be completed within the maximum timeline established for the program, as described under the Standards of Satisfactory Progress section of the Eastwick College catalog.
OTA Admission Requirements
OTA Student Handbook
OTA Fieldwork Educator Resources
Program Accreditation
Eastwick College's AAS in Occupational Therapy Assistant program is accredited by the Accreditation Council for Occupational Therapy Education (ACOTE) of the American Occupational Therapy Association (AOTA), located at 6116 Executive Boulevard, Suite 200, North Bethesda, MD 20852-4929. ACOTE's telephone number c/o AOTA is 301. 652.AOTA and its web address is www.acoteonline.org.
Graduates of the program will be eligible to sit for the Certified Occupational Therapy Assistant (COTA) exam administered by the National Board for Certification in Occupational Therapy (NBCOT). The COTA credential is required to apply for state licensure to practice as an occupational therapy assistant. Note that a felony conviction may affect a graduate's ability to sit for the NBCOT certification examination or attain state licensure.
Cost of Attendance
Tuition per Credit*

Number of Credits*

Total

Tuition

Application Fee

Registration Fee

Other

Fees

Books and Supplies

Total

Cost

$370

100

$37,000

$25

$100

$0

$2,446

$39,571
* Eastwick College uses quarter credits
Curriculum Delivery of General Education Courses
Eastwick College uses the distance education (DE) hybrid modality to teach the general education courses in the curriculum of the AAS in Occupational Therapy Assistant. General education courses comprise 41% (41 of 100 quarter credits in the program). In the DE hybrid modality, students take courses online using the Canvas Learning Management System platform and attend select lectures, exams, and laboratories in person as disclosed in each course's syllabus.
Program Outcomes
Program results from the National Board for Certification in Occupational Therapy (NBCOT) can be found online at https://www.nbcot.org/Educators-Folder/SchoolPerformance
Expected

Graduation

Year

Students in

Cohort

Students

Graduating

Graduation Rate

2020

161

126

78%

2021

187

158

84%

2022

103

80

78%

Total

451

364

81%
Frequently asked questions about occupational therapy assistant
What is an occupational therapy assistant ?
Working under the guidance and supervision of occupational therapists, occupational therapy assistants help patients maintain their health and mobility by engaging in purposeful and meaningful activities. This generally includes providing rehabilitative services, community-based services, and educational instruction to individuals, groups and populations. Occupational therapy assistants help individuals with mental, physical, and social impairments, as well as those with emotional and developmental disabilities, to engage in therapeutic activities and learn to function at a higher level.
What do students learn as an occupational therapy assistant?
Students learn about treatment options for patients with mental disorders, physical ailments and chronic illnesses. Educational studies focus on general education and provide an introduction to the field. Students study anatomy, psychology, mathematics and medical terminology. Also incorporated are courses in occupational therapy fundamentals of kinesiology, medical conditions, assessment techniques and implementation of treatment plans. Coursework is supplemented with fieldwork requirements so that students gain experience in clinical settings.
What type of places or positions do occupational therapy assistant students work in after graduation?
Occupational therapy services are provided in schools, clinics, hospitals, rehabilitation facilities, mental health centers and numerous other facilities look to meet the needs of their clients.
What certifications and affiliations are offered through the occupational therapy assistant program?
Eastwick College offers an AAS in Occupational Therapy Assistant in order to prepare the student to sit for the National Board for Certification in Occupational Therapy (NBCOT) exam. After successful completion of this exam, the individual will be a Certified Occupational Therapy Assistant (COTA). In addition, most states require licensure in order to practice; however, state licenses are usually based on the results of the NBCOT Certification Examination. Eastwick College's Career Development department provides a wide array of services—career counseling, resume review, and a professional development course; all geared towards ensuring that students achieve their career goals.
What kind of person would do well as a occupational therapy assistant?
If you are a compassionate, hard-working critical thinker and dedicated individual who seeks to find meaning and purpose in your life while contributing to the health and well-being of others, than you may be a good fit in the occupational therapy assistant profession.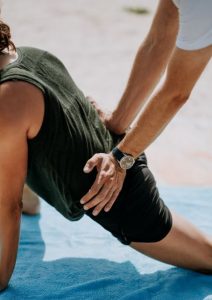 If you love helping people live more fulfilling lives and working with your hands, a ...
Read More